Corrosion Under Insulation (CUI) Resource Library
Thermal insulation is an integral part of the industrial complex. However, even the best designed and installed systems sometimes become compromised, resulting in the presence of water at the pipe surface and the potential for Corrosion under Insulation (CUI). Learn more about CUI and how JM provides the solution. 
Corrosion Under Insulation (CUI) refers to the corrosion of piping, pressure vessels and structural components resulting from water trapped under insulation.
In the simplest terms, CUI is any type of corrosion that occurs due to moisture present on the external surface of insulated equipment. The damage/attack can be caused by one of multiple factors, and can occur in equipment operating at ambient, low, and heated services, depending upon conditions.
It's all in the chemistry. The XOX Corrosion Inhibitor is a proprietary corrosion inhibitor that is integral to the chemical makeup of JM's Thermo-1200® Calcium Silicate and Sproule WR-1200® Expanded Perlite industrial insulations.
Providing an additional layer of protection against corrosion under insulation (CUI), the XOX Corrosion Inhibitor® activates in the presence of water to protect steel surfaces, making these JM industrial insulations optimal solutions to combat CUI.
While specifiers, contractors and facility owners tend to bear the burden of preventing corrosion under insulation (CUI) by designing systems that can inhibit CUI, installing them according to the specification to ensure that they work effectively, and consistent accountability for maintenance, manufacturers can also play a role in contributing to successful corrosion prevention.
While it may seem like the role would be limited to offering materials with features like corrosion inhibitors or hydrophobicity, Johns Manville is of the opinion that there is more to it. We take it a step further to understand the intricacies of the interactive relationship between insulation and the corrosion that can occur beneath it is critical to creating and manufacturing materials that contribute to a defensive CUI protection strategy.

The primary function of thermal insulations is to reduce the rate of heat transfer. Industrial insulation coatings are often promoted by manufacturers as a viable alternative to traditional insulations. While this viability may be true in some applications, the performance characteristics of coatings and traditional insulations are dramatically different. The distinguishing factor is that traditional insulations meet a broader range of safety requirements by reducing heat transfer and meeting safe-to-touch requirements. This Insulation Intel® technical bulletin compares the advantages and disadvantages of using thermal insulation coatings versus traditional insulation products based on third-party testing.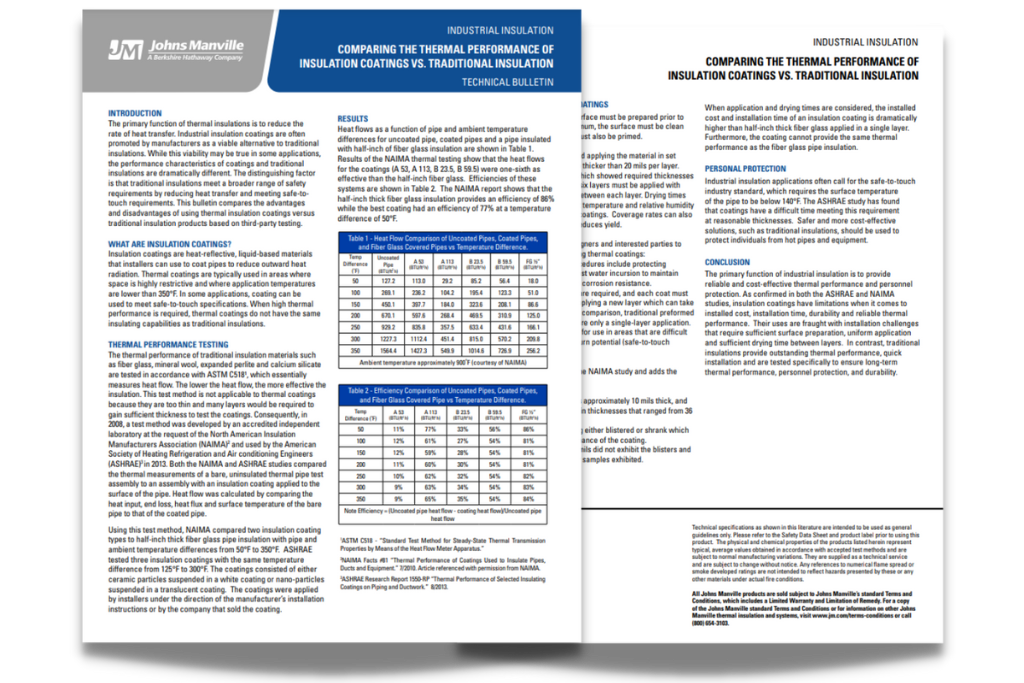 While specifying water repellent insulation is a great start, it's not necessarily the perfect solution.
A better approach is to design an insulation system around the assumption that water will eventually enter the system. Designers could allow for means of water egress, such as weep holes.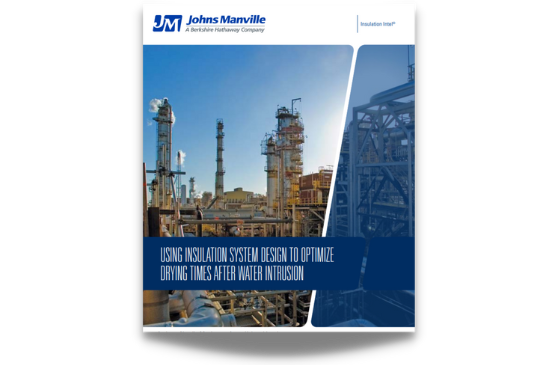 Learn more about the mechanisms and longevity of corrosion inhibitors like JM's XOX Corrosion Inhibitor® in insulation.  
Download Now