The Latest Commercial Roofing Updates with JMRoofing.News
Latest JM News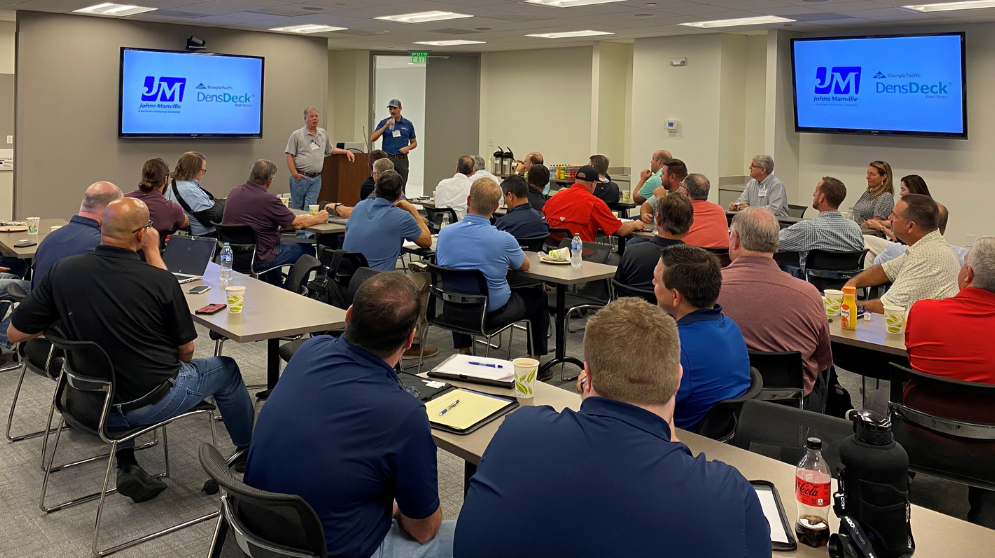 JM Sales Agent, Larimer Shannon Group, hosted an IIBEC GA and GARCA Education and Networking event at their main office. Over 100 local Georgia contractors, consultants and s...
Suicide Prevention Month
NRCA offers resources to the construction industry for suicide prevention. Read more here.
National Preparedness Month
IRS urges businesses and individuals to develop an emergency preparedness plan
for natural disasters. Read more here.
Dodge Construction Outlook 2023
Dodge is holding their outlook on 2023 event on November 2-3, 2022 in Chicago. Register here today.
SmartBinder

The desktop version of SmartBinder to get quick access to data sheets, installation guides, flashing details and more. You can also download this app to your iPhone or Android for access on-the-go.

Submittal Wizard

Use our Submittal Wizard to build a submittal package complete with data sheets, SDS documents, and details for your entire JM commercial roofing system.
JM Peak Advantage® Contractor Program
As a Peak Advantage Contractor, you'll gain unrivaled access to tools and services all designed to help you gain productivity, raise your expertise and put you in a stronger competitive position. From training courses to destination conferences, professional recognition and technical support, the Peak Advantage Program is designed to elevate your business and your reach.