Climate Pro Blow-In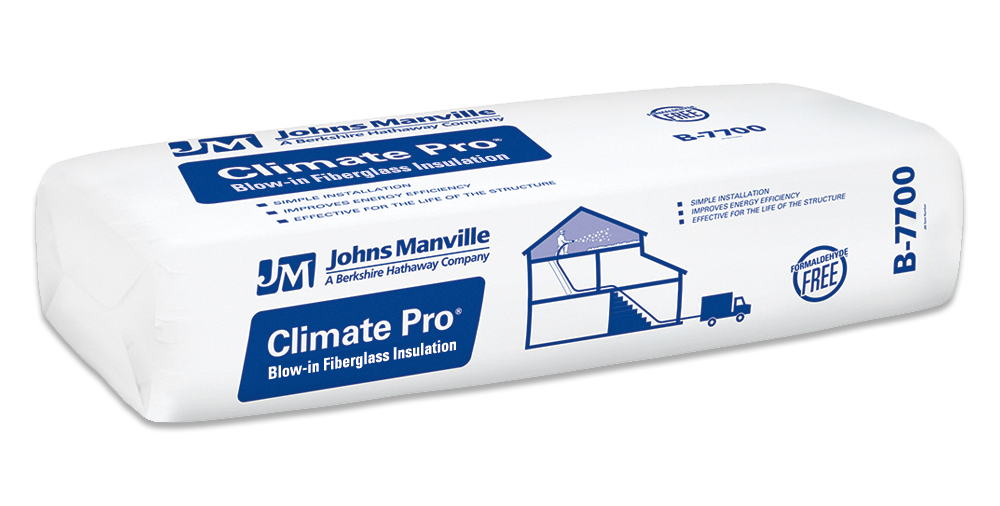 X
Johns Manville Climate Pro® Formaldehyde-free™ blow-in, loose-fill fiberglass insulation offers thermal and sound control along with fire resistance. One bag of Climate Pro provides 77.1 square feet of R-30 coverage. Engineered for professional use with high-volume blowing machines, it's ideal for attics, nonconforming spaces and hard-to-reach areas making the job faster and easier.

Advantages
Easy Installation: Insulates attics or spaces of all shapes and sizes without cutting or fitting.
Complete Coverage: Effective in tight spaces, areas with large amounts of cross-bridging, or small gaps and voids.
Thermally Efficient: Effective resistance to heat transfer. No settling; no loss of R-value following installation.
Formaldehyde-free: Will not off-gas formaldehyde in the indoor environment.
Sound Control: Reduces sound transmission through exterior and interior walls, floor and ceiling assemblies.
Fire-Resistant: Flame Spread of 5 or less and Smoke Developed of 5 or less.
Resilient Inorganic Glass Fibers: No rotting, mildew or deterioration. Also noncorrosive to pipes, wiring and metal studs.
Superior Performance: Stable bonded glass fibers will not slump, settle or break down during normal applications.
| | | |
| --- | --- | --- |
| ASTM Standards | ASTM C764 | Type I |
| Flame Spread | ASTM E84 | ≤ 5 |
| Smoke Development | ASTM E84 | ≤ 5 |
| Critical Radiant Flux | ASTM E970 | > 0.12 W/cm2 (0.11 Btu/ft2s) |
| Water Vapor Sorption | ASTM C1104 | 5% or less by weight |
| Odor Emission | ASTM C1304 | Pass |
| Corrosiveness | ASTM C764 | Pass |
| Fungi Resistance | ASTM C1388 | Pass |
| Combustible Characteristics | ASTM E136 | Pass |
| VOC Emissions | ES Section 01350 | Pass |
Data Sheet
Installation Instructions
SDS

Literature
Certification and Specifications

Best Practices for Installing JM Climate Pro®
---
×