Continuous Insulation Resources
Johns Manville continuous insulation solutions offer optimal performance and efficiency through and through.  Thermal efficiency is created with products that provide exceptional air, water and vapor control which prevent thermal bridging.  Improve project efficiency with JM technical services that help you incorporate JM products seamlessly into your plans, because efficiency is key to the success of every build — and your business.
---
Continuous Insulation Products 
___
Johns Manville CladStone® Water & Fire Block:
JM CladStone is a continuous insulation mineral wool product that is specifically manufactured for superior performance in cavity wall and rain screen applications. JM Cladstone is available in 4 densities, CladStone 45 (4.5pcf), CladStone 60 (6.0 pcf), CladStone 80 (8.0 pcf) and CladStone 110 (11.0 pcf). JM CladStone is part of a NFPA 285 compliant wall system that uses Aluminum Composite Materials (ACM) metal panels.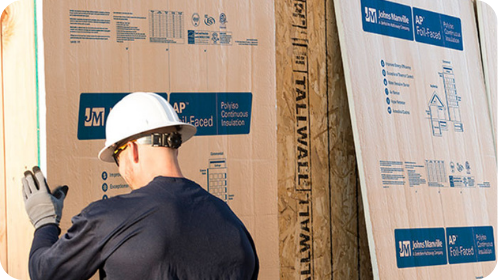 ___
AP™ Foil-Faced Polyiso Sheathing: 
AP™ Foil-Faced Polyiso Continuous Insulation Sheathing consists of a uniform closed-cell polyisocyanurate foam core bonded on each side to a foil facer. One side has a reflective foil facer and the other side has a white non-reflective foil facer to suit your building needs. AP™ Foil-Faced foam sheathing can be used as continuous insulation behind most wall systems such as stucco, brick, fiber cement and metal panels.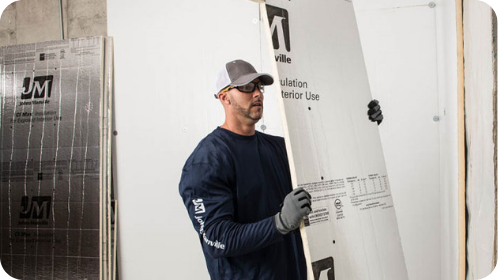 ___
CI Max® Polyiso Sheathing: 
CI Max® is a high efficiency rigid foam sheathing designed for exposed interior applications. CI Max foam sheathing passed NFPA 286 Corner Burn Test for walls only or ceiling only without joint treatment, meeting both the International Code Council's Building Code Section 2603 and Residential Code Section R316.  CI Max provides a continuous layer of insulation to reduce thermal bridging and improve energy efficiency.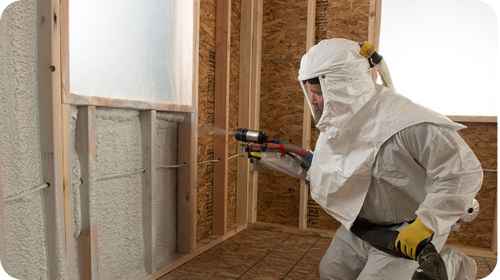 ___
JM Corbond® Closed-Cell Spray Polyurethane Foam:
JM Corbond closed-cell spray foam insulation covers gaps and voids, works in hard-to-insulate areas.  Its high yield, superior thermal and moisture performance, and exceptional sprayability and adhesion make it an ideal choice for high-performing energy efficient buildings. JM Corbond closed-cell spray foam can be used as a continuous insulation and is also an all-in-one air barrier, vapor retarder, and water-resistive barrier.
JM All-Purpose Continuous Insulation Wall System

The high-performing JM All-Purpose Continuous Insulation Wall System, featuring AP™ Foil-Faced Polyiso Foam Sheathing Board, can help you save on materials and labor costs while providing greater design flexibility. The product functions as a water-resistive barrier, vapor retarder and air barrier – eliminating the need for separate barrier components. It can also eliminate the need for exterior sheathing such as Gypsum or OSB.