Low-Slope Roofing for Multifamily Buildings
Multifamily buildings have evolved to more than apartments. Class A, generally new buildings, have become a housing and working hybrid solution. Amenities have expanded in order to attract tenants looking to live in desirable locations. These buildings are not only for inhabitance but can also include retail space or a vast selection of mixed-use opportunities. The housing shortage has seen investors turn to Class B multifamily properties as a chance to renovate buildings, thus upgrading to a Class A.
How does this all involve commercial low slope roofing? In both situations roofing comes into play. Class A multifamily building new construction continues, and Class B buildings tend to be older needing a roofing system replacement.
Single Ply Membranes

TPO is a common versatile roofing membrane solution that works for multifamily buildings in all geographies. Application options include mechanically attached, adhered, or self-adhered membranes.

Single Ply Membranes

EPDM is great for multifamily locations that tend to see more heating than cooling days. Top markets include the Northeast and Midwest.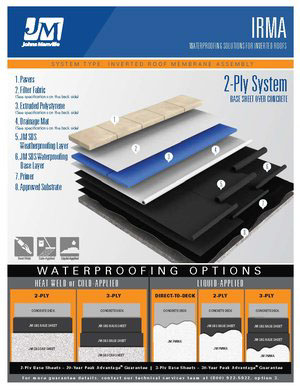 Inverted Roof/Paver SBS Systems
IRMA systems are inverted roof membrane assemblies. For multifamily buildings, this could be either a roof top patio or balcony. JM offers membranes to go beneath the paver system to help create a waterproof barrier.

Hail Considerations
Hail can be extremely damaging from roofs, to cars, to landscaping and more. Check out JM systems that are designed to meet the FM Very Severe Hail Ratings.
High Wind Rating
Is your building in an area where it experiences high winds? JM TPO has industry's best FM rating 1-135.
JM TPO REQUIRES UP TO 40% FEWER FASTENERS than competitive induction-welded systems, saving you time and money. Our system yeilds higher wind uplift approval per square foot and reduces the potential for membrane flutter. Many installers find that installing JM RhinoPlate® requires less labor and ultimately leads to greater profits.