Spray Foam
John Manville's complete line of spray polyurethane foam (SPF) insulation solutions provides superior thermal energy efficiency, as well as advanced air and sound control. SPF insulation completely covers gaps and voids, works in hard-to-insulate areas and can exceed the performance of traditional fibreglass insulation. Both Johns Manville SPF product categories, open-cell and closed cell, deliver high yield, superior performance and exceptional sprayability.

JM Corbond III - Canada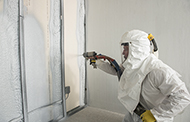 X
Johns Manville Corbond III closed-cell spray polyurethane foam insulation offers RSI 2.1 (R-12) at 50mm (2 inches) and can be applied in a single pass to a maximum of 89mm (3.5 inches), providing superior thermal performance with seamless air sealing and moisture control in a single step. Multiple immediate passes, with no wait time, may also be applied. With high yield and excellent adhesion, it's an ideal choice for high-performing energy efficient commercial, residential and industrial applications.

Advantages: 
Complete Coverage: Expands and adheres without shrinking or settling.
Energy-Efficient: Reduces air and moisture infiltration to the building envelope and provides continuous coverage for high thermal performance.
Air Barrier: Prevents leaks when properly installed at 25 mm (1") thickness or more.
Superior Moisture Performance: Resists mold growth; meets current vapour retarder codes.
Wide Application Temperature Range: Can be applied at temperatures as low as -7°C (19°F).
Faster Installation: Spray easily in a single pass from a minimum of 13 mm (0.5") to a maximum of 89 mm (3.5"). Multiple immediate passes, with no wait time, may also be applied. See Data Sheet for complete information.
| | | |
| --- | --- | --- |
| CCMC Evaluation Listing | | 13478-L |
| Standard | CAN/ULC | S705.1 |
| Flame Spread | CAN/ULC S102 | Tested |
| Fungi Resistance | ASTM C1388 | Pass |
| Thermal Resistance | ASTM C518 | RSI: 2.40, R-value: 14.40 (50mm specimen) |
| Long-Term Thermal Resistance | CAN/ULC S770 LTTR | RSI: 2.03, R-Value: 11.60 (50mm specimen) |
| Dimensional Stability | ASTM D2126 | < 15% change in volume -20°C (-4°F), 0.3 volume change 80°C (176°F), 1.1 volume change 70°C (158°F), 97 ± 3% RH volume change |
| Nominal Density | ASTM D1622 | Medium density 33kg/m3 (2.1 lb/ft3) |
| Compressive Strength (1") | ASTM D1621 | 245 kPa (36 psi) |
| Water Absorption | ASTM D2842 | 0.88% |
| Water Vapor Transmission | ASTM E96 | 46ng (Pa.s.m²) |
| Sound Transmission | ASTM E90-90 & ASTM E413-87 | 36 (STC) |
| Air Permeance | E2178-03 | < 0.0002 L/s @75Pa |
---
×
JM Corbond Open-Cell - Canada

X
Johns Manville Corbond Open-Cell Spray Foam is a lower density, nonstructural insulation that offers RSI 0.63 (R-3.6) at 25mm (1 inch). It delivers high yield, minimizes sound transmission and virtually eliminates any air leakage. It's designed to improve energy efficiency for a wide variety of residential, commercial and industrial applications and can act as an effective air barrier.

Advantages
Energy-Efficient: Helps to improve the energy efficiency by filling in gaps and cracks while creating an air seal.
Air Barrier: Expands 120 times its volume to seal voids, gaps and crevices. Air-impermeable at 95.25mm (3.75").
Sound Transmission: Performs well acoustically when used in an assembly.
Adhesion: Exceptional when properly installed.
Installation: Provides high yield with superior sprayability at an exceptional value. Meets requirements for application without an ignition barrier in unoccupied and unvented attics when properly installed.
CCMC Evaluation Listing
14010-R
Standard
NBC Clause 1.2.1.1.(1) (b), Division A, Sentence 9.25.2.2.(1)
Flame Spread
CAN/ULC S102
25
Fungi Resistance
ASTM C1388
Pass
Thermal Resistance
ASTM C518
RSI: 0.63, R-value: 3.6 (25mm specimen)
Dimensional Stability
ASTM D2126
-29°C (-20°F)/Ambient RH, -0.8% volume change 80°C (176°F)/Ambient RH,
-21.1% volume change 70°C (158°F)/95% ± 3% RH, -7.6% volume change
Nominal Density
ASTM D1622
7.2 kg/m3 (0.5 lb/ft3) Nominal
Water Vapour Transmission
ASTM E96
2140 ng/Pa•s•m2 at 50mm 37 Perm
Sound Transmission
ASTM E90-90 & ASTM E413-87
39** (STC)
---
×