GoBoard Washers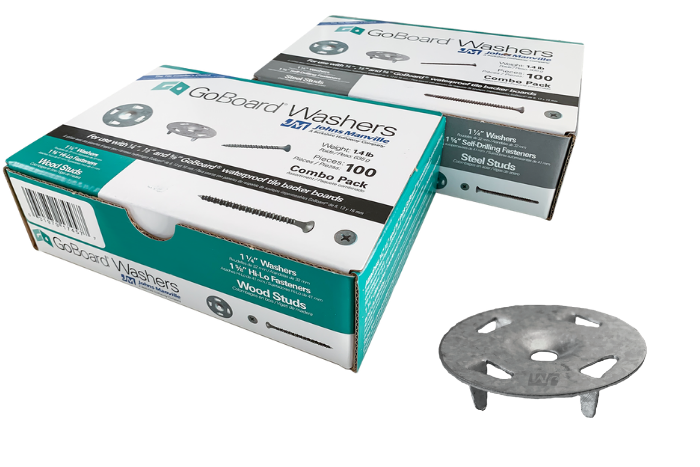 X
GoBoard® Washers are hardened steel washers that provide maximum holding strength when fastening tile backer board to stud framing. Each washer has tabs for pre-positioning prior to driving the fasteners. These reverse tabs also prevent the washers from stacking while packaged – making them easy to separate. When using GoBoard Washers in your installation, the fastener spacing increases to 12 inches.
Wood and metal studs
12-inch spacing
Corrosion-resistant
East installation
GoBoard Fastener/Washer combo packs come with 100 pieces each and are for use on:
1/4″ for floors and countertops
1/2″ and 5/8″ for walls, showers, ceilings, and floors
Approved Materials
Fastening on Wood studs

GoBoard Hi-Lo Fasteners (1 5/8″ long)
GoBoard Washers
Fastening on Metal studs

 GoBoard Self-drilling Fasteners (1 5/8″ long)
GoBoard Washers
Required Tools
#2 Phillips head bit
drill
Safety
Please wear gloves, safety glasses, long sleeve shirts, and long pants and follow good safety practices when installing GoBoard.
Storage and Handling
GoBoard Washers and Fasteners can be stored indefinitely.
---
×