Recycling Resources for Low-Slope Roofing
Construction material and sustainability are usually not two things that go together, but they should.  Re-roofing mechanically attached or ballasted insulated single-ply system may have the potential to be recycled versus contributing to a landfill. This helps the environment and can provide potential savings in disposal costs for your business.
Regulations around recycling continue to grow as sustainability initiative increase and become part of corporate culture and building requirements. Let JM provide you with a resource.
Request a Quote:
Learn if the existing low-slope roofing system qualifies via phone or by submitting an online request.
Project Address
Size
Materials
Estimated Start Date
Yes, pricing is provided directly from NFR.
Nationwide has estimated that a full flatbed of ISO (24 pallets) is equal to four 30-yard dumspters saved from a landfill. 
ISO, XPS, and EPS
TPO, PVC, and EPDM
Boards must be stacked 4' high on a pallet or dunnage. 
Only dry, mold-free manufacturer 4x8 or 4x4 cut boards. 
Goal is a truck of 24 pallets. 
The membrane is either folded or rolled, stacked, and secured on a pallet.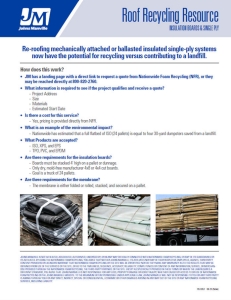 By using the Nationwide Foam Recycling, you agree that neither Johns Manville, its affiliates nor any of their respective employees, agents, third party content providers or licensors warrant that Nationwide Foam Recycling or the site will be error free; nor do they make any warranty as to the results that may be obtained from use of the services or the site, or as to the timeliness, sequence, accuracy, reliability, completeness or content of any information, service, or merchandise provided through the Nationwide Foam Recycling, the third party partner or the site.
Except as specifically provided in these terms or where the law requires a different standard, you agree that Johns Manville is not responsible for any loss, property damage or bodily injury, whether caused by access to or use of Nationwide Foam Recycling or the Johns Manville website. To the maximum extent permissible under applicable law, Johns Manville will not be responsible to you or any third party claiming through you for any direct, indirect, special or consequential, economic or other damages arising in any way out of the site or any nationwide foam recycling services, including liability.
You agree to defend, indemnify, and hold harmless Johns Manville, its affiliates and their respective directors, officers, employees, and agents from and against all claims and expenses, including attorneys' fees, arising out of your violation of these Terms or misuse of Nationwide Foam Recycling or this Site, including such violation or misuses conducted by your employee or agent, if applicable.
We are not affiliated, associated, authorized, endorsed by, or in any way officially connected with Nationwide Foam Recycling, or any of its subsidiaries or its affiliates.