Johns Manville Joins Other Berkshire Hathaway Companies at Annual Meeting in Omaha
Tens of thousands of people returned to Omaha in early May for the annual Berkshire Hathaway shareholder meeting. The event attracts people from all over the world – from the serious investor to the curious Warren Buffett follower to the casual shopper.
Berkshire companies, including JM, exhibit at the meeting and many (Fruit of the Loom, Brooks, See's Candies, etc.) sell various products at discounted prices. The big hit this year were Squishmallows available for sale. The toy brand is owned by Jazwares, which was acquired last year by Berkshire.
JM doesn't sell any products at the meeting, but this year we did sell packing cubes that can used to organize suitcases when traveling. We took 500 sets (each set contained a large, medium and small cube) to Omaha and sold out long before the event ended.
The sets sold for $10 each. All money raised ($5,000!) will go to Girls Inc. of Omaha. The organization is Warren's favorite charity and works to inspire all girls to be strong, smart and bold.
"Our programming – in partnership with schools and at our centers through 77 local organizations – focuses on the development of the whole girl," the group's website says. "A combination of long-lasting mentoring relationships, a pro-girl environment and research-based programming equips girls to lead fulfilling and productive lives, break the cycle of poverty, and become role models in their community."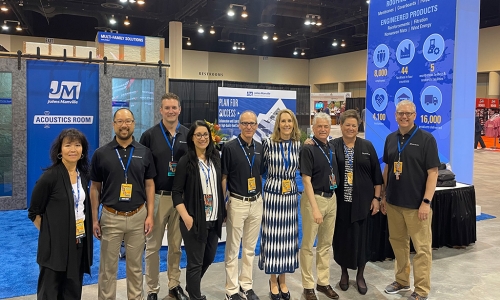 JMers working in the booth answered questions from shareholders and sold packing cubes during the two-day event.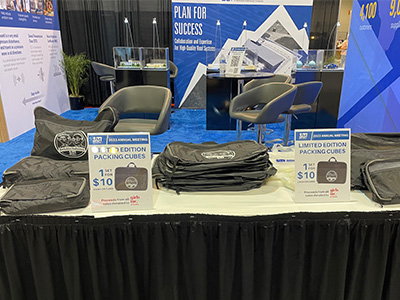 JM sold sets of packing cubes at the meeting. All sales benefited Girls Inc. of Omaha.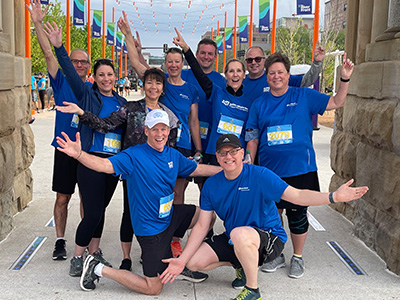 JMers joined the Invest In Yourself 5K sponsored by Brooks Running.