McPherson, Kansas Plant Electrician's Dedication to Community Packs a Punch
Richard Gadbury and a handful of coworkers at Johns Manville's plant in McPherson, Kansas are in their community's corner.
Since 2020, Gadbury, Mykal Eddy and Justin Siebert have operated the nonprofit Reno County Boxing Academy (RCBA), training young people in the sport of boxing. 
"I work a day job like everyone else, but my evenings and weekends are spent at practice, or on the road headed to a boxing show," said Gadbury, an electrician at the plant, which manufactures fiberglass insulation. "We compete all over the country, we don't have a lot of down time. All things considered, there's nothing else I'd rather be doing."
Last month, the RCBA won the team trophy at the Kansas State Golden Gloves boxing tournament and one of the academy's fighters – Gadbury's son, Julian, – was named fighter of the tournament. 
"It was great to see him win fighter of the tournament, and he beat the number two guy in the country doing it, so I was happy for him," Gadbury said of his son. "He got to show just how skilled and durable he is, and he did while under pressure, competing in front of his great grandmother, in his hometown, at the biggest tournament of the year."
Gadbury continued, "He started out having zero skills, but he had very good instincts, along with packing a pretty good punch for a little guy. He's developed into one of the best in the country. I think what I'm most proud of him for is just his general effort that he puts forth."
RCBA's ranks hover between 25 and 30 members at any given time, he said, adding that the academy currently has five nationally ranked boxers: Luis Zuniga, Genny Zuniga, Johnny Lopez, Angel Blancarte and Nehemiah Chapman.
"By the end of the year, we hope to have seven to eight," Gadbury said. He added that one of the academy's boxers, Jacob Cox, is poised for a shot at the Olympic trials.
"He is more than capable of winning, now we just have to go and do it," Gadbury said. "Our year is going to be a lot of fundraising, traveling and training."
The boxers are supported by a dedicated coaching staff including Michael Glenn, Sofia Enriquez, Jorge Zuniga, and Ricardo Gonzalez. The program is funded by donations from individuals and businesses including Johns Manville.
A number of Johns Manville employees have volunteered their time to the RCBA since its founding and Eli Lutes, Tyler Broyles, and Austin Hager helped with the Golden Gloves tournament in January. McPherson Plant Manager Terry Spencer, Marlin Hudson, Ray Maciel, Sam Ybarra, and Giovanni Ochoa were in attendance to cheer on the team and to accept the trophy which is now on display at the plant.
"It's very validating. We put these guys through the ringer," Gadbury said. "My gym operates a little different than most, but we put a lot of stock in being in shape and being able to make the three rounds without fatiguing."
He added, "Once you get tired, you no longer care about winning, you just want it to be over and that weakness lives in all of us."
Gadbury said he founded the RCBA because sports teach competitors important life skills including honesty.
"Competition can open our eyes to many, many things. I've learned so much about myself, so much about people, so much about the human spirit," he said. "(Opponents) don't care how hard you punch, they don't care how fast you are, they don't care what your friends say; they want to fight. Those moments, like other serious moments in life... That's when the truth matters."
The idea was never to build pro boxers or even champion boxers, Gadbury said.
"There are a lot of things a person can learn in a boxing gym, and I feel that what we teach here is important," he said. "It's very easy to put sports figures on a pedestal, to feel as though they have abilities that us regular people don't have and that simply isn't true – not in this sport in any way."
And the academy gives back to Gadbury as well, he said. "I have been involved in competitive fighting in some capacity since I was a little boy. Whether I was just a fan, or a training partner, or a coach. There aren't too many parts of the sport that I don't appreciate or respect."
He added, "This gym is good for me, my relationship with my kids and boxers and in a lot of ways, I think it's good for my town. So, its balanced at several different levels and I think that's a good thing."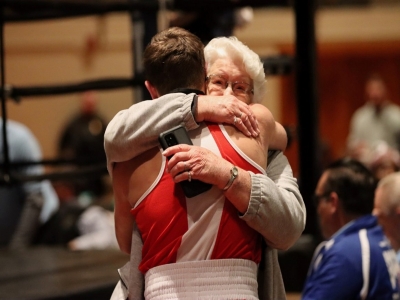 Julian Gadbury and his great-grandmother.