JMers Share Stories for AAPI Heritage Month
May. 21, 2021
by Nicole Leatherman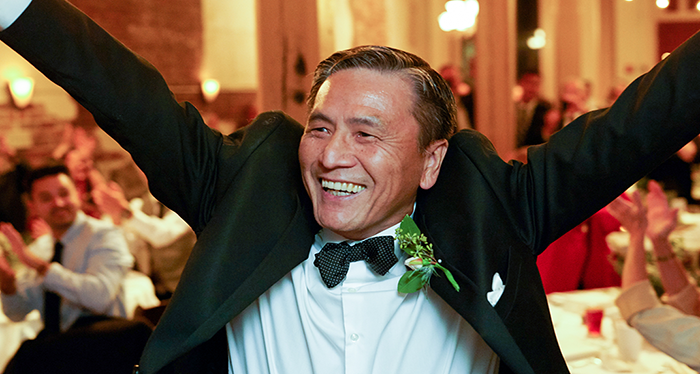 Pictured: John Tran
During the month of May, Johns Manville (JM) recognizes Asian American & Pacific Islander (AAPI) Heritage Month and celebrates Asians and Pacific Islanders in the United States and throughout our company.
Recently, we talked with three JMers — John Tran, Production Supervisor at JM's Insulation Systems facility in Richmond, Virginia; Paul Ingham, Senior Environmental Health & Safety Specialist at JM's Roofing Systems plant in Scottsboro, Alabama; and Derek Luk, Plant Engineer at JM's Insulation Systems plant in Edison, New Jersey — to hear what AAPI Heritage Month means to them.
Here's what they had to say.
Q: What does AAPI Heritage Month mean to you and your family? 
John: It means so much to me. My father was from China. I was born in South Vietnam. I left Vietnam when I was 24 years old. I came to the U.S. on Labor Day weekend in 1979. The reason why I wanted to leave Vietnam is because, when I went to college, the country fell into communist hands. I looked for ways to escape by boat and that's what I eventually did. I had a cousin who lived in Virginia and she agreed to sponsor me. Once I arrived, I was so happy to be here, but at the same time I was quite overwhelmed. I knew very little English. When I first tried to speak, the words just wouldn't come out of my mouth. I used to listen to The Beatles to try and learn English better. I really wanted to see The Beatles in concert. And, funny enough, I don't think I realized back then that where I needed to go was England instead of America if I really wanted to increase my chances of getting to see them!
Paul: I've always been so proud of my heritage. I'm from of the island of Guam. My wife, who I've been married to for almost 26 years, is Italian. I have two daughters, who are 25 and 21. Guam is a U.S. territory, so we speak English. However, the island also has its own dialect called Chamorro. I don't want it to die out, so I'm doing my part to try and teach the language to people who want to learn it.
Derek: I immigrated to the Philadelphia area from Hong Kong when I was 11. It was an experience coming to a country where I did not know how to speak the language. At first, it was tough for my mom to find jobs. My three siblings and I have been fortunate to have found good jobs that allow us to support our families. When I think about AAPI heritage, it's what I think the American Dream is supposed to be — contributing to the success of the country and serving our local communities. Many of us came here not knowing the language, but we had access to education, which gave us access to job opportunities. My family worked hard, and we have achieved so much. We really couldn't ask for more.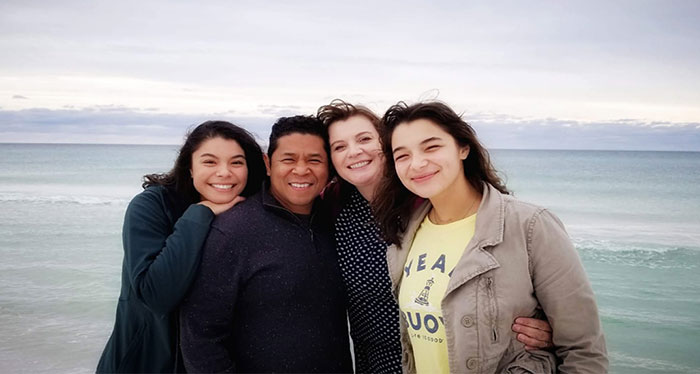 Pictured: Paul Ingham with his wife and two daughters
Q: Tell us more about your families. 
John: My wife and I have been married for 37 years. I am a proud father of six children and a grandfather to two grandchildren. I tried to teach them all Chinese when they were very young. I love my family. And I have to share that my second daughter, Theresa Tran, has such a big heart. She has been a travel nurse throughout the pandemic. She lives in Virginia and she went to New York City to help out in the beginning when cases were very high. She's my hero and I admire what she's doing.
Paul: I was adopted at birth by my parents in Guam. We moved to the U.S. when I was 8 years old. I've always been curious about my birth parents. This past February, my daughters purchased a 23andMe DNA kit. Through that, I found one of my aunts on Facebook, who connected me with my birth mother. She is from Guam. I learned that my father is Filipino. As it turns out, I'm actually half Guamanian and half Filipino. I also learned that I have nine half brothers and sisters. I will meet my mother, who lives in Las Vegas, in person this fall. I've been talking with her online weekly and Zooming with my new brothers and sisters. I haven't yet talked with my biological father, who lives in San Francisco, but I hope to meet him too. 
Derek: I have a brother and two sisters. My brother lives in Philadelphia and he works in clinical data base management. My younger sister is a mom and lives in Taiwan. And my youngest sister is in Florida. She recently gave birth to twins and runs a small franchise business. My father passed away when we were very young. As a single mom, my mother wanted to see if she could provide better opportunities for her kids. She decided to come to the U.S. and was able to find work in the restaurant industry. From the time I was 7 to 11 years old, I lived with my grandfather in Hong Kong until I was able to join my mom in the U.S. Today, I have a wife and two sons. My wife and I live in South Jersey. My eldest son is a sophomore at Rutgers University and my youngest son is a freshman there as well. They will be roommates for the upcoming school year.
Q: Do you and your family have any special traditions to celebrate your AAPI heritage? 
John: We always celebrate Vietnamese New Year and Chinese New Year every February. They happen at the same time. Because of my background, we like to be sure we celebrate with the Chinese, too. Our cultures share similarities. When we celebrate, my family gets together and we have food. It's always nice to be together with the family.
Paul: We do, especially behind the food we eat. Chamorro culture is rich with blending spices and meats together to make certain dishes. I'm also taking my wife and daughters to Guam next year. This will be the first time my daughters have ever been there. I told them that may not want to come back to the mainland once they've visited Guam! It's so beautiful. Chamorro people are very family centered. We have respect for the elderly. We love music and dancing. We love to barbecue and eat. When you're on the island, you can walk into any fiesta. You don't have to know anyone, and it doesn't matter where you're from. Everyone is always welcome.  
Derek: Normally, the big thing for the Chinese is Lunar New Year in January or February. We always try to get together on New Year Eve's to have a family dinner. My mom would always make chicken, duck and braised pork belly.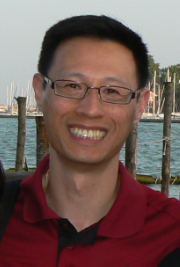 Pictured: Derek Luk
Q: Is there anything else you'd like to share?
John: In Vietnam, I saw killing every day. I love America. It's the land of opportunity. If you work hard, you can achieve what you want and make a great life for your family.
Paul: I have been all over the world with my adopted father and mother. Because my dad was in the Navy, we moved quite a bit. I actually graduated from high school in Turkey. Then I went into the military for 20 years. I started as a Marine and retired with the Army. I served three tours in Iraq. I'm a family man. My wife and kids come first. Because I was born in Guam, I do gravitate toward my Guamanian side. But now, knowing more about my heritage and learning I also have a Filipino side, I look forward to embracing more of my culture.
Derek: There's so much negativity that's messaged via the media. The hate that we hear about is unfortunate and these senseless acts of violence are tragic. My family has experienced violence firsthand. In 2007, my father-in-law was attacked while taking an after-dinner walk near his home in Philly. He passed away seven days after the attack. When he was here with us, he taught us about forgiveness. As hard as it is, we know he would have wanted us to forgive the person who attacked him. And that's what we've done. It was a senseless act, one that changed my family forever. It also changed the attacker's life forever. But we have to forgive. We're doing things to honor my father-in-law in the way we live our lives ― with forgiveness, positivity and hope.