Striving for Sustainability
Apr. 19, 2021
by Kim Melton and Martin Fiederling
Throughout the world, we are seeing a global focus on implementing strategies and technologies that can help reduce waste and create more sustainable ways to do business.
At Johns Manville (JM), we are proud that many of the materials we produce help contribute to optimized energy efficiency and more sustainable living. Beyond that, we have taken steps to help improve the sustainability and big-picture impact of the products we produce and our manufacturing processes.
These are some of the ways JM is helping to improve sustainability.
Thermal Recycling Unit for Glass Fiber Waste in Trnava, Slovakia
We successfully launched a new thermal recycling unit for waste glass fibers in our Engineered Products plant in Trnava, Slovakia. This unit will use the waste generated during the production and processing of glass fibers.
The new Trnava unit has a projected recycling capacity of more than 3 tons per hour. After processing, the recycled glass powder is free of organic particles and re-fed as raw material into the glass production process on-site, thus achieving a closed production loop. The project will keep more than 10,000 tons of waste out of the landfill each year.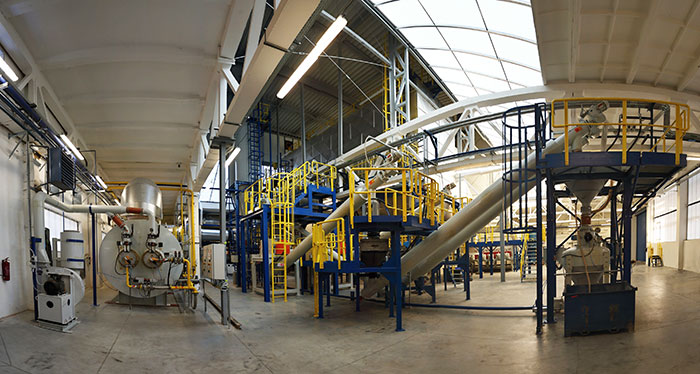 JM's Thermal Recycling Unit for Glass Fiber Waste in Trnava, Slovakia 
Scottsboro Recycling Initiative
At our Scottsboro, Alabama, roofing manufacturing plant, recycling has been a key point of focus since 2011. The team there emphasizes recycling to minimize the amount of waste exiting all areas of the plant.
Over the past five years, the Scottsboro facility has managed to keep its waste generation to an average of less than 2.5 pounds of waste generated for every 2,000 pounds of production. At the Scottsboro facility, the culture is focused on reducing waste and recycling throughout the plant ― from the break room to the manufacturing floor. This emphasis has allowed the team to continue to increase production rates while keeping waste generation under tight control.
E3 Pallet™ Technology
JM has reinvented large-pallet design with our new patent-pending E3 Pallet™ technology for our large HVAC board insulation products. The E3 Pallet™ is designed to make it cheaper and easier to recycle and reuse our 4'x8' and 4'x10' pallets ― pallet sizes that are typically costly to recycle and/or send to a landfill. 
The new design has changed the structure of the pallets by adding an additional runner (4'x10') or changing the spacing of the runners (4'x8') so that each pallet size can be cut down into smaller, more functional sizes. The 4'x8' pallet can be cut into two, 48"x48" pallets, and the 4'x10' pallet can be cut into three, 48"x40" pallets. The cut down E3 Pallets can be reused at the facility, easily recycled, or, in some cases, sold back to pallet suppliers, reducing waste at any facility that uses JM's large HVAC board products.
JM Corbond® IV
Early in 2021, JM released JM Corbond® IV, our fourth-generation spray foam insulation. JM Corbond IV was engineered to provide excellent thermal performance coupled with a significantly lower global warming potential (GWP) than previous generations. With a GWP of <2 (compared to 800–1,200 from previous generations), JM Corbond IV has made spray foam an attractive option for building designers who are looking to maximize energy efficiency in their buildings while reducing their footprint.
As we work to continue to create excellent thermal insulators, advancing the manufacturing process to also reduce greenhouse gas emissions is a critical step to making insulation an even better solution for the future of our world.
Every year, JM works hard to find new ways to improve our sustainability and reduce the amount of waste we generate at our plants. We are proud to share some of our successes and we are eager to continue to work toward a greener, cleaner future.