JMer Plays the Trombone for a Good Cause
Apr. 14, 2021
by Nicole Leatherman
During the workday, Chris Frohne (pictured right of center next to the drum) is the Manager of Production and Technology at JM's Richmond, Virginia, plant. After work, he's a trombonist and President of a band called The Sauerkrauts. 

"We are an all-volunteer band of men and women, specializing in Bavarian waltzes and polkas," Chris said. "We donate our musical talents to raise money for Shriners Hospitals for Children."
The 20-person band practices weekly throughout the year to gear up for its busiest season: Oktoberfest. 
From around mid-September to the last week in October, The Sauerkrauts dress in authentic lederhosen and dirndls and play between 20 and 30 gigs throughout central Virginia, including Richmond Oktoberfest and various festivals at breweries, wineries, bars, restaurants, retirement communities and more. With that many gigs in a short time span, Chris said it's not uncommon for the band to play two four-hour gigs in a day.
"We have a great time and it is all for a great cause," Chris said. 
Shriners Hospitals for Children is one of the largest pediatric specialty healthcare systems in the world, with locations in the U.S., Canada and Mexico. The hospitals treat children up to age 18 with orthopedic conditions, spinal cord injuries, burns and cleft lip and palate, without regard to a family's ability to pay. 
Each year, The Sauerkrauts set a fundraising goal of $10,000 to support Shriners. Every year except for 2020, the band has come close to meeting that goal through the nominal fees it charges concertgoers as well as any tips received. Some of the fundraising money also goes to the Acca Transportation Fund. Through that fund, the Shriners local chapter in Richmond helps provide transportation to patients and their families to hospitals at no cost to the family.
Chris, who has worked for JM for almost 22 years, started playing the trombone in grade school. After high school, he took a 40-year break from the instrument until 2013 when he joined The Sauerkrauts and Million Dollar Band, a concert band that specializes in marches, theme songs and Christmas music. 
"I had a comfortability with marches whereas the timing is completely different with Bavarian waltzes and polkas," Chris said. "It took me a good two to three years to get it down. Now I find myself humming the music all the time. Plus, I love the camaraderie of The Sauerkrauts. Everyone is supportive. If someone messes up a note, the sentiment is always, 'You're doing great. You'll get it next time.'" 
Listen to The Sauerkrauts:
During National Volunteer Month, we're recognizing JMers who go the #JMextraMile to help people and causes in their communities.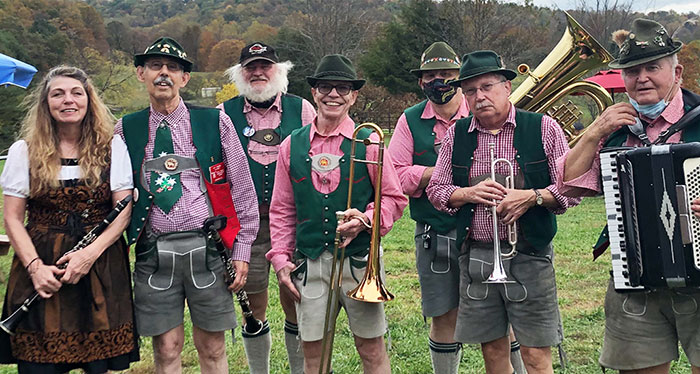 Photos: Courtesy of Chris Frohne (pictured in the middle with the trombone)