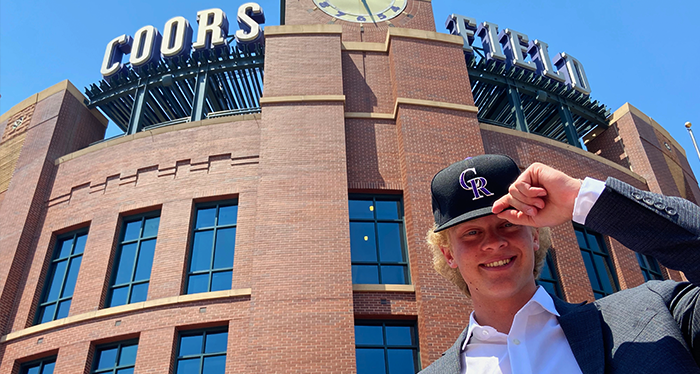 Case Williams is pictured outside of Denver's Coors Field, the home field of the Colorado Rockies.
Johns Manville Employee's Son Drafted by the Colorado Rockies
Jun. 11, 2020
by Nicole Leatherman
​Right-handed pitcher Case Williams was selected by the Colorado Rockies in the fourth round of the MLB Draft on June 11. Case, an 18-year-old from Douglas County High School in Castle Rock, Colorado, is the son of Erika Williams, who works at Johns Manville's World Headquarters in Denver as an Insulation Systems OEM Channel Leader.
"2020 has been a challenging year for us like everyone else ― until last night," Erika said. "Last night was a bright spot for our family. While we didn't have an expectation for Case to get drafted because of the truncated number of rounds, we had hope and knew there was interest."
Historically, the MLB draft is 40 rounds. This year, it was only five rounds due to the pandemic and, therefore, much more competitive. 
"We had big, messy, happy tears rolling down our faces as his name was called," Erika said. "Case is completely committed and excited to represent our home town Rockies! The outpouring of support and enthusiasm from my JM family has been heart-warming and not surprising. JM is full of good people. Go Rockies!"

Read more on MLB.com and 9News.com or click here for additional photos, courtesy of the Colorado Rockies and Erika Williams.