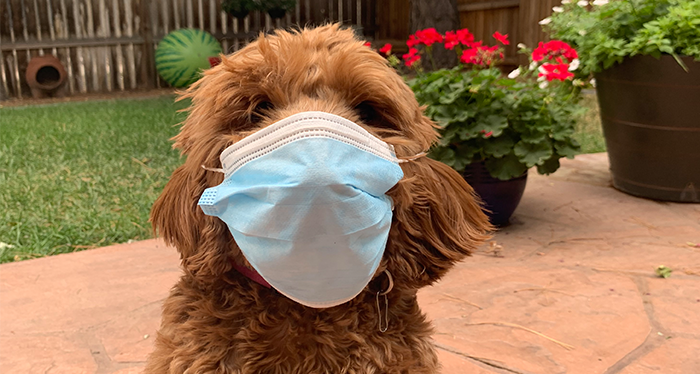 Molly Brown the Labradoodle, who's the dog of Corporate Communications Director Eric Brown, models how to properly wear a face covering.
The Dogs of Johns Manville Remind You to Wear Your Face Covering Correctly
Aug. 01, 2020
by Nicole Leatherman

The Centers for Disease Control and Prevention (CDC) has called on everyone to wear face coverings amid the COVID-19 pandemic. 
The CDC reviewed the latest science that affirms cloth face coverings are critical tools ― particularly when they are used universally within communities ― to help prevent people who have the virus from spreading it to others. 
The key, though, is wearing them correctly.
At Johns Manville, the health and safety of our employees, customers, suppliers and communities is our top priority. We also like to have a little fun.
With those two things in mind, we asked a handful of JM employees if their dogs would help communicate some of our COVID-19 safety tips. With unanimous tail wags, the dogs agreed to show the correct and incorrect ways to wear a face covering and let us share their photos on our various communications channels. (Full disclosure: There may have been a treat or two involved as incentive.) 
From left to right (above), meet Apollo, Snoop, Hannibal and Molly. Molly demonstrates how to properly wear a mask, with it covering your nose and mouth. Apollo, Snoop and Hannibal were good sports to participate and model incorrect mask usage for the sake of the exercise. We applaud their creativity. The mask earring might just become an accessory trend after the pandemic is over. 
For more information about the use of masks to help slow the spread of COVID-19, click here.