The Amount of Insulation That's Just Right
Oct. 03, 2019
by Christina Martinez
Before you approach any project, it's important to make sure you've got everything you need for a successful outcome. A project is only as good as its groundwork. That being said, sometimes the simplest questions, like how much insulation you need for a project, lead to the most important answers. Read more and learn how to calculate just how many bags of insulation you need.
When it comes to buying enough insulation for your project, it's important to measure the spacing between your studs. This will determine which size insulation you need to buy. Generally, you'll be faced with either 16" on-center studs or 24" on-center studs. For 16" on-center studs, you will use insulation that's 15" wide and for 24" on-center studs, you will use insulation that's 23" wide.

Now, you're ready to decide on a product. With insulation, you have a few kinds to choose from: batts and rolls or blow-in insulation. Batts are pre-cut for fast wall installation, rolls are good for unobstructed spaces and are cut to preferred length, and blow-in is a fast, easy, thorough way to insulate attics. Check out our projects page to find out what type of insulation is recommend for each room in your house. 
Now, we can calculate how many bags of insulation you'll be needing for your project. If you're using batts and rolls, there's a simple equation outlined here.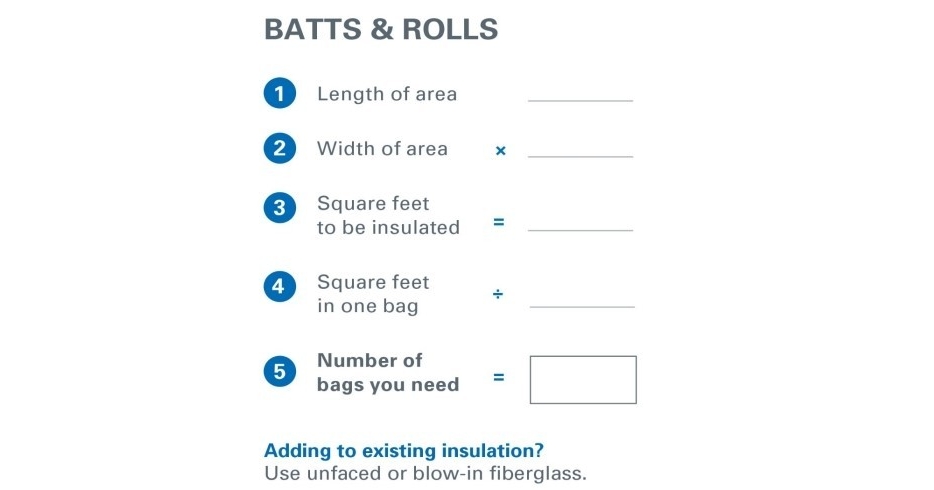 Measuring for blow-in insulation is a little trickier because you have to take into account the proper R-Value for your location. If you are unsure what R-Value you need, this R-Value map is a great resource. Your R-Value will also determine the recommended insulation depth for your project.
Now that you've got your recommended number of bags, you're ready to head to the store and make the purchase! Curious where you can find Johns Manville insulation? Use our partner locator to find a partner near you. And, before you start your installation, make sure you have all the right equipment on-hand to make it an easy, safe process. A tape measure, utility knife, safety glasses, and a long-sleeved shirt, pants, and gloves are all must-haves.