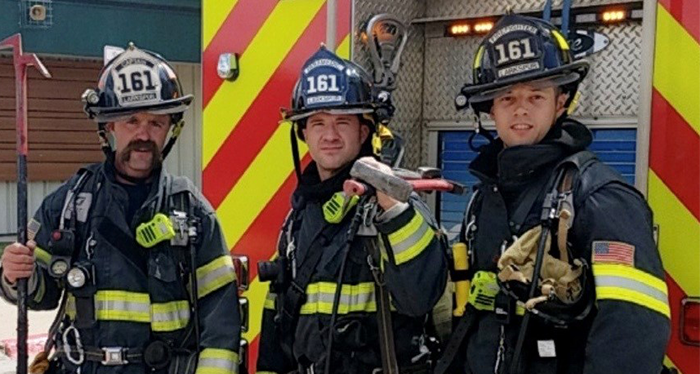 Randy Deitemeyer (right) and members of his LFPD Engine 161 crew
Johns Manville Employee and Volunteer Firefighter Helps Colorado Community Amid the COVID-19 Pandemic
Apr. 15, 2020
by Courtney Ward
By day, Johns Manville Senior IT Manager Randy Deitemeyer spends his time working with innovative tools and technologies to help deliver value and drive business process excellence at JM. His areas of focus include sales and distribution, transportation, financial forecasting, enterprise mobility and more.

By nights and on weekends, Deitemeyer volunteers with the Larkspur Fire Department in Douglas County, Colorado. He averages between 600 and 700 volunteer hours each year, serving as a firefighter, an EMT and a leader of the Hazardous Materials Training Academy, which includes response efforts for infectious diseases.

In the wake of the COVID-19 pandemic, Deitemeyer and his team have had to adjust their efforts and adapt to a new set of challenges. 

"In a few short weeks we have been forced to rapidly evolve our 9-1-1 response efforts," Deitemeyer said. "We are now required to wear an N95 mask on every call regardless of a patient's symptoms and have dedicated a medic unit to respond specifically to COVID-19 symptomatic patients."

Firefighters endure dangerous and multi-hazardous environments amid "typical" circumstances, and COVID-19 has made those conditions even more difficult to navigate. Deitemeyer said wearing an N95 respirator leads to greater physical exertion and strain due to restricted respiration. He and his team have also noticed increased levels of anxiety among their patients, out of fear of exposure to the virus if they are sent to the hospital. 

Through it all, Deitemeyer said he is grateful for the many supplies local citizens and businesses have donated to his team. He said he is also thankful for the "global family" of firefighters he's worked with throughout his six years as a volunteer. His experience has given him a sense of community both at home and abroad. 

"It is customary for firefighters from around the world to visit other firehouses when they travel to a foreign country to exchange department patches, share stories and talk through local protocols and procedures," Deitemeyer said. "Last year, I had the opportunity to travel to China, Mongolia and South Korea, and I met with emergency management personnel from each country. Despite language barriers, I was welcomed with open arms. To this day, I correspond regularly with a fellow firefighter who I met in Seoul. It has been great to stay in touch with him throughout this epidemic." 

Deitemeyer received a message from that firefighter just last week. It included well wishes and a positive and hopeful affirmation that experts will find a cure for COVID-19 soon. Deitemeyer is proud to have found camaraderie through a mutual desire to serve others, despite the inherent risks involved.